Mangalsutra symbolizes the bond and compassionate love between husband and wife. Although traditionally a ritualistic part of a wedding and a union of two souls, Mangalsutra has been adapted in a contemporary way, even in the 21st century.
From the traditionally huge and heavy Mangalsutra designs, Mangalsutra has evolved through a well-defined time period with the latest additions of Diamond Mangalsutra and Mangalsutra Bracelets.
Married women wear a Mangalsutra for several reasons, and the most prominent one is the well-being of their husbands and the entire family.
Mangalsutra consists of a string of black and yellow beads with a central pendant, either in the form of old Vati designs on the Mangalsutras to diamond pendants.
In south Indian culture, the groom ties three knots of the Mangalsutra around the neck. At the same time, the rest of India has a single string of black and gold beads with pendants as per one's wishes.
7 Key Factors You Should Consider When Buying Mangalsutra
Check The Quality Standards
Mangalsutra is one of the "Stree-Dhan," a woman owns in the form of jewellery. It is basically an arrangement made for her future sustenance. Looking at Mangalsutra's economic importance, buying the best quality is vital so it can be used in the future.
In most cases, Mangalsutra is one of the primary jewellery items mortgaged during times of need, thus making them a vital investment rather than a mere ritual.
Therefore, whenever you are about to buy a Mangalsutra, your focus should be on its mark of purity.
A BIS standard hallmark is a representation of the purity of the product.
Also read this: How to build & improve your thinking skills
Final Length Of Mangalsutra After Adding Pendant
Shorter Mangalsutra versions have taken over the long Mangalsutra patterns. The traditional ones used to be deep up to the stomach sometimes. However, the ideal length of the Mangalsutra should be up to the person's heart.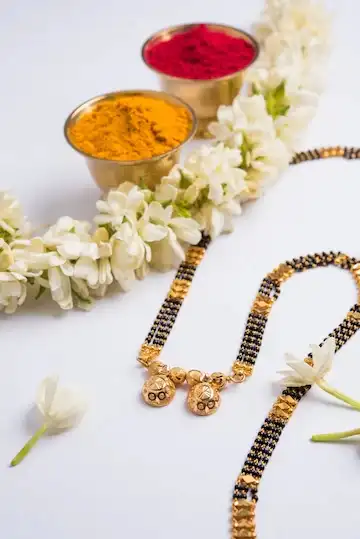 Finalize The Pendant
The pendants are the main part of a Mangalsutra, so the choice should be thoughtful. A pendant of a Mangalsutra comes in various styles, like heavy designs, hanging pendants, small pendants, lightweight pendants, chain pendants and many more.
While the south Indian Mangalsutra with Thali pendants is popular among the south Indian states, the central and northern India goes with the Vati structures.
These two Vati's are essential to maintain the essentiality of a Mangalsutra. Choosing the right size and right pattern thus matters!
Finalize The Shape
Several trendy shapes, including circular, heart-shaped, and V-shape, for your Mangalsutra, depending on your likes and dislikes. If you plan to wear it daily, go for a lightweight and working Mangalsutra with easy handling and a simple tone.
Married women in the cities with professional careers won't prefer wearing traditional Indian jewellery at work, including Mangalsutras.
Therefore, as a part of their lifestyle, smaller petite and modern designs are coming into the market.
Decide The Right Metal
Traditionally Mangalsutra was mainly made of gold. However, in modern times, various metals like silver, gold, platinum, and white gold are considered for making a Mangalsutra. Each of these metals looks gorgeous.
However, your choice of Metal should be based on your budget, liking, future investment plans, and daily wearing plan.
Choose A Versatile Design
Do not choose a Mangalsutra that you would be able to wear only with Indian outfits. A Mangalsutra has cultural importance; hence, the designs also represent this cultural importance. However, the 21st-century woman is a modern working woman. Most of the time, you might be might western outfits. Your confidence defines you; hence, whatever you wear should look comfortable.
Therefore, choosing a design that combines Indian and western looks is essential.
Keep An Eye On Your Budget
Mangalsutra is usually a black beaded chain in a thin wire of gold. The gold wire and black beads are essential for the Mangalsutra. However, your choice of gold, diamond or white gold should depend on your budget.
You shouldn't jump on the bandwagon just because your friend went for the diamond Mangalsutra. Keep your budget in mind when buying a Mangalsutra.
Conclusion
Mangalsutra is one of a one-time-purchases; hence, you should be extra careful when buying one. The more important features you focus on, the more excellent choice you make.
Also, remember that a Mangalsutra is a medium of capital formation during your hard times; therefore, this significant investment needs appropriate time and effort before making the final purchase.