Knowledge is Power!
Here is an interesting insight into good health, women and the medical profession, and much more by a veteran in the medical profession- Dr Padma Srivastava, Professor, Head, Department of Neurology, Chief, Neurosciences Center,
The Mindset- Root Cause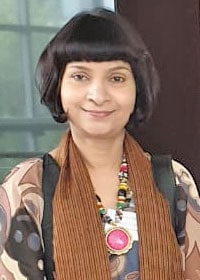 The overall mindset of a society has a significant impact on gender equality. Despite the enforcement of laws, there is a pushback. And it is very often women who uphold these obsolete, archaic, patriarchal beliefs in the garb of traditions and culture. We need to rise from this all. Unity amongst women is singular of paramount value. Women may face several restrictions on behaving, how to dress, whom to speak to, and whom not to speak to when they step outside the house. Women acknowledge that many instances of domestic violence are triggered by the idea that men cannot accept their wife's newfound mobility!
Females & the Medical Profession
Through credible research, it has been established that under pressure to excel at work, women had no work-family balance and experienced identity crises as competent doctors and mothers. This is ironic and sad. It has also been found that minimal leadership aspiration created a vicious cycle of a lack of social networking and mentoring. Women doctors experienced explicit gender discrimination in career opportunities, especially during their earlier careers when they were exposed to a hierarchical structure and held temporary work positions. Many participants were faced with conflicts between their career aspirations in certain specialities, social norms and unwritten rules for being accepted into these specialities. For example, people often believe that women cannot endure long hours of surgery! Or late-night shifts! For single women, unwritten rules required them to agree not to become pregnant during residency training!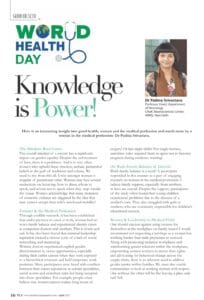 On Work-Family Balance of Doctors
Work-family balance is a myth! A participant responded in this manner as a part of engaging research on women in the medical profession. I believe family support, especially from mothers, in-laws are crucial. Despite the support, participants of the study often found their young children experienced problems due to the absence of a mother's care. They also struggled with guilt as mothers, who are commonly responsible for children's educational success.
Women & Leadership in Medical Field
One should caution against using excuses for themselves at the workplace on family issues! I would recommend not requesting a privilege as a woman but working harder than male physicians to succeed. Along with promoting inclusive workplaces and transforming gender relations within the workplace, empowering women workers to access their rights and advocating for behaviour change across the supply chain, there is an inherent need to address gender justice within families. We must also enable communities to look at working women with respect. One without the other will be like leaving a glass only half full.
Measuring Success

The term outstanding in any field of work is outshining every measure of excellence in parameters accountable in that field. It may transcend the conventional boundaries of achievable targets or reach impossible limits, and what have you. So, it will be essentially patient-specific and patient first in my field! And the three cogent pillars in an academic medical hospital are Clinical Service, Education and Research! Outstanding is, therefore, a measure of subjective and objective assessment of these three pillars. An exceptional clinician with excellent acumen clinical sense! A great teacher, capable of instilling knowledge, confidence and aptitude in students; great researcher doing ethical, clinically impactful research which enhances evidence-based practice. When such efforts and achievements can be recognized as outstanding by peer groups and the larger societal fabric, it becomes humbling and empowering; it gives impetus to do more; excel higher!
My De-stressor
Music is what I would like to pursue still. It is, for me, nearly a panacea for all evils! The world's greatest balm! Nothing like time or music to heal frayed nerves! Broken spirit or even pain in any form! Psyche is integrally and inherently entwined into the brain circuitry and neural networks with spinoffs on the manifestation of symptoms, signs of a disease process, response to diagnostic algorithms and management strategies! Therefore we have a burgeoning understanding of concepts of psycho immunology, psychopharmacology, psychotherapeutics amongst a host of others! Music therapy has a place in these and more. Importantly though, for me, music is a getaway, a 'me time, some time we need to ignore the sword of Damocles hanging over or the tight rope walk that needs to be done! It is ok to the recipe, gather energy resources, and have more reserves to face the world again! That's music for me. And I intend to learn and play and sing….. I also like to be a motivator and be involved in a force to empower women. I am still finding ways to do so. I do it in my field, for my young resident, colleagues, patients, and caregivers. I intend to do that more and scale up the efforts.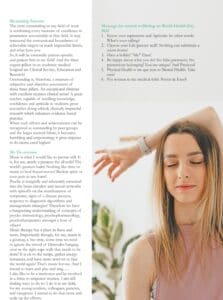 Message for mental wellbeing on World Health Day 2022
1. Know your aspirations and Aptitude: In other words: What's your calling?
2. Choose your Life partner well!: Nothing can substitute for a warm home!
3. Have a hobby! "Me" Time!
4. Be happy about what you do! No false pretences; No pretentious belonging! You are unique! And Precious!
5. Physical Health is sin qua non to Mental Health. Take care!
6. For women in the medical field- Persist & Excel!