An ace educationist, a sports enthusiast, someone who took Chandigarh at the international map in Roller Skating, a good Samaritan, a strong visionary and someone who carries an aura of discipline and grace along. Meet Mrs. Madhu Bahl, who is tremendously elegant at 70 and has an undying zeal to educate students of all strata- privileged and lesser privileged. Her unique initiative Saral Ahsaas, in which she adopted 450 children of Bapu Dhaam Colony to educate them for free, won her laurels at the national level, including an award by President of India, the State Award, among several others. Her list of achievements is endless, and there are countless teachers and students whose careers she has shaped in all these decades. Here is a candid conversation between this phenomenal, graceful lady with TLJ Editor-in-Chief Dr Neha Miglani
What is your life philosophy ?
My life is dedicated to education, and my only passion is to educate students. Not just those
who are privileged but even those who are lesser privileged. 'Saral Ahsaas' has been very
close to my heart. It was not easy to go to colony and convince parents to send their children
to us. Now, one cannot make out the difference between regular students and them!
Your biggest challenge in life so far (Professional and personal).
When I initiated the project to educate the lesser privilege, there were minor challenges. The
personal hygiene of these children from slums was so low that teachers used to keep
handkerchief on their mouths when entered the class to teach them. Gradually with discipline
and by imbibing good values, these children became so smart, clean and confident.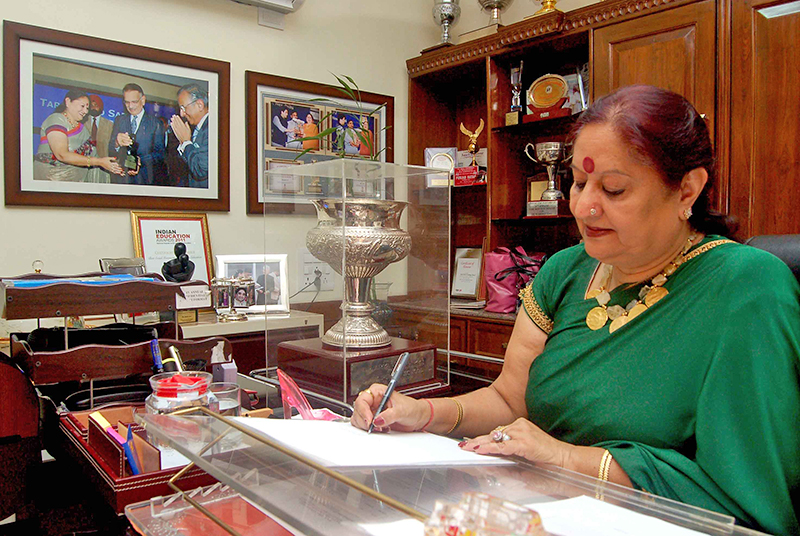 You biggest strength and support system.
My family has been my biggest strength: my father-in-law, Sh. B.S. Bahl, a leading
educationist, was my Guru. He passed away two years ago at the age of 103, and till his last
breath, he was working and used to come to school every day. My husband, Dr. Arun Bahl, a
noted author of Chemistry books, is my robust support system. I am tremendously proud of
my children, who are also a source of pride and strength. My daughter, Vani Bahl, is a Gold
Medallist from the prestigious Chandigarh College of Architecture and is currently in San
Franciso. Jai Krishnan Chathu, my son-in-law (Vani's husband), is an I.T. specialist and a
Software Engineer working on Artificial Intelligence at Sunnyvale in California (USA) in a
highly reputed company. He is called J.K. by his friends and family members. J.K. is a very
hardworking, multi-talented person and a great human being. He, along with Vani, spend
quality time in their 7-acre land, which they have purchased for horticulture purpose. He
achieved a Degree in Permaculture along with Vani from the University of Stanford, Austin.
He specializes in landscaping and growing several kinds of fruit trees and other medicinal
plants on his farmland. He is very fond of pet dogs and has adopted two of them.
My son, Vishal Bahl, is a Chemical Engineer and did his MBA from Carnegie Mellon
University; he is in Minneapolis. My daughter-in-law, Amber Bahl, runs her own business in
the U.S. and is connected with school education. My grandson, Arnav, is a gifted child and is
way ahead of his age. He already chants Maha Mrityanjay Japa at a tender age, and his
parents have given him good Indian values. I am blessed with a brilliant and supportive
family. Not just my children, even their spouses are very talented.
How do you unwind after a long day?
I like to watch movies, of any kind, on Netlfix and other platforms. That is my way of
relaxing and unwinding! I also listen to gazals, particularly Jagjit Singh gazals.
Few things you want to improve in yourself.
I think I get restless sometimes. I know that things will be taken care of, but sometimes I do
get jittery.
Your top qualities, from your perspective. 
I am a perfectionist. Whatever I do, I do it 100%, with all my heart. I get involved and do
things. I also like to create leaders and inculcate leadership quality in others. I am a quick
learner, and once I decide to do something, there is no looking back. Also, I love to dress up,
and I am very fond of accessorising my outfits. I think it makes you feel confident and
smart!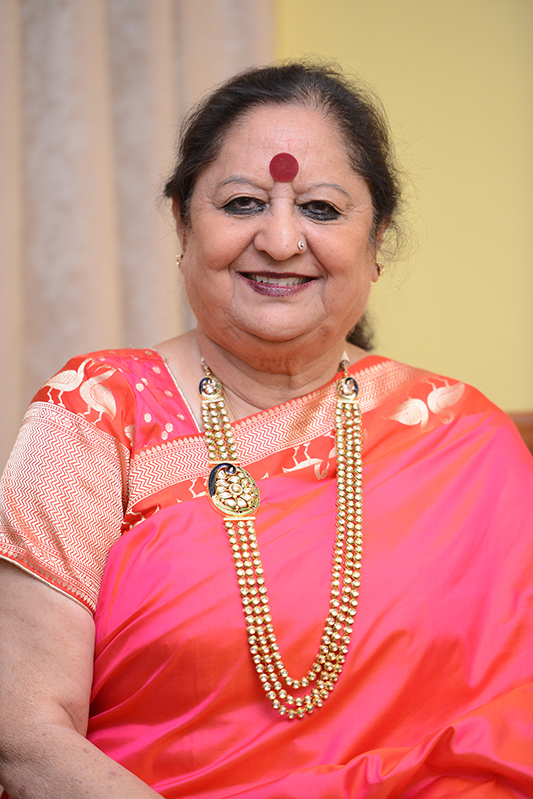 What is your take on the new National Education Policy? What are the most
transformational points in NEP?
Honestly, there is a lot of confusion about NEP. There are no clear instructions or guidelines
from MHRD on several aspects. We have distributed copies of NEP to our entire staff, and
we are thoroughly studying it. April 1 NEP is coming into force, but there is a dire need to
organise workshops and have orientation for all teachers on its real worth and the implementation strategy.
Do you feel there is a scope for improvement in curriculums in Indian schools? If yes,
what kind of changes must be brought about ?
There are scores of capacity building workshops held in schools, but there is a lack of
direction. The 'impact' is missing. Many topics were deducted from the biology curriculum,
for instance, but the load will now come on students in Classes XI and XII.
What is your message to other women on International Women's Day, especially to all
those who look up to you? 
Think of collective good of the society. Do not discriminate between people. Contribute as
much as possible to charitable activities, to social work. Women have a lot of inner strength;
they must use it not just to nurture their own families but to also take care of the society at
large.
A Glorious Career of an Inspirational Woman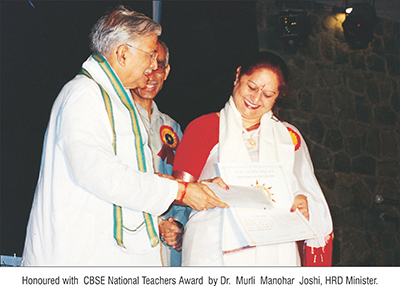 2001- CBSE National Teachers Award- She received the prestigious National CBSE Teachers Award,
given by the then MHRD Minister Dr. Murli Manohar Joshi at India International Centre, New Delhi.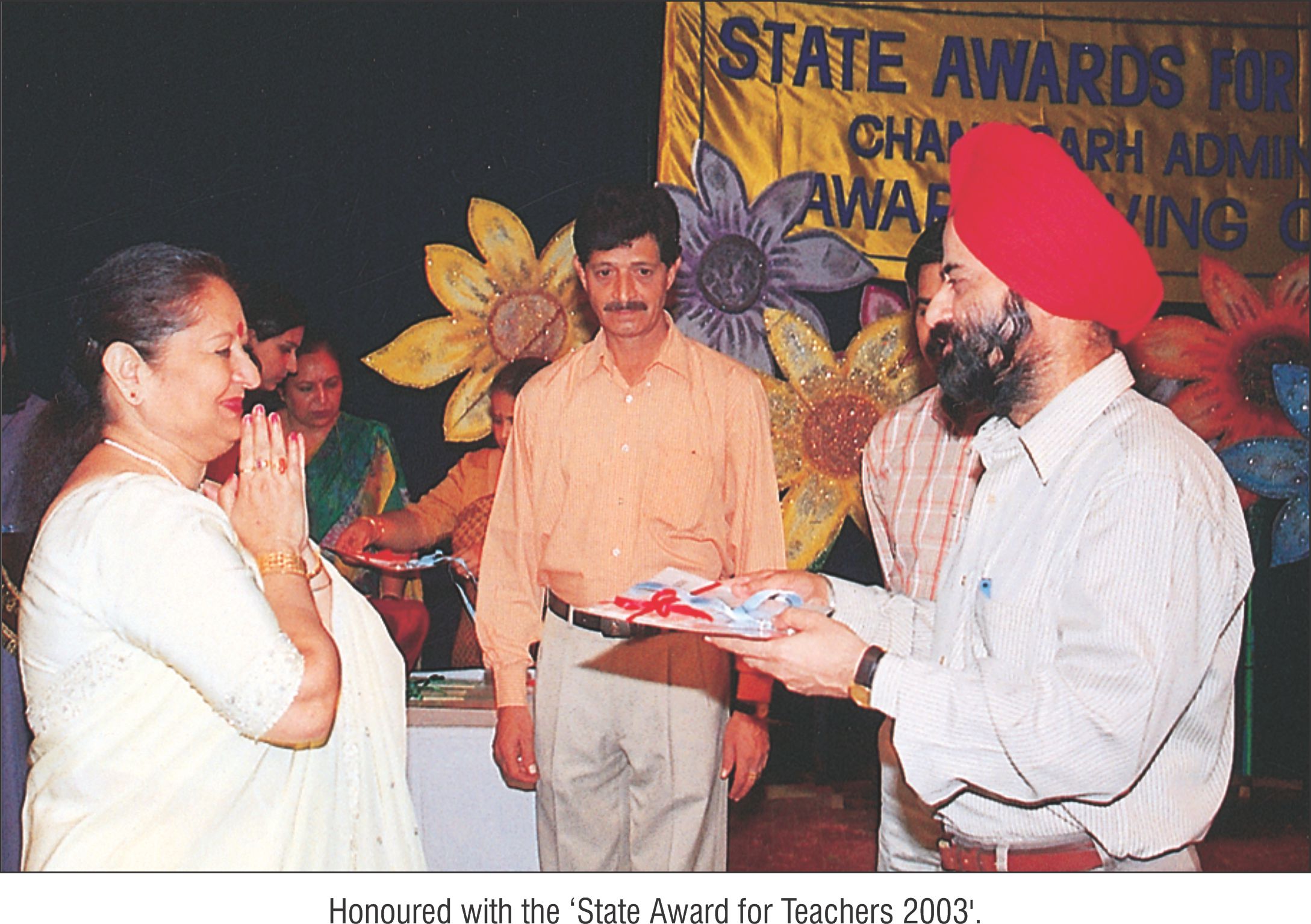 2003- Teachers State Award- She received the Teachers State Award in public recognition for her
valuable services to the community as a teacher of outstanding merit, award by then Education-cum-
Home Secretary, UT Administration, Sh. R.S. Gujral.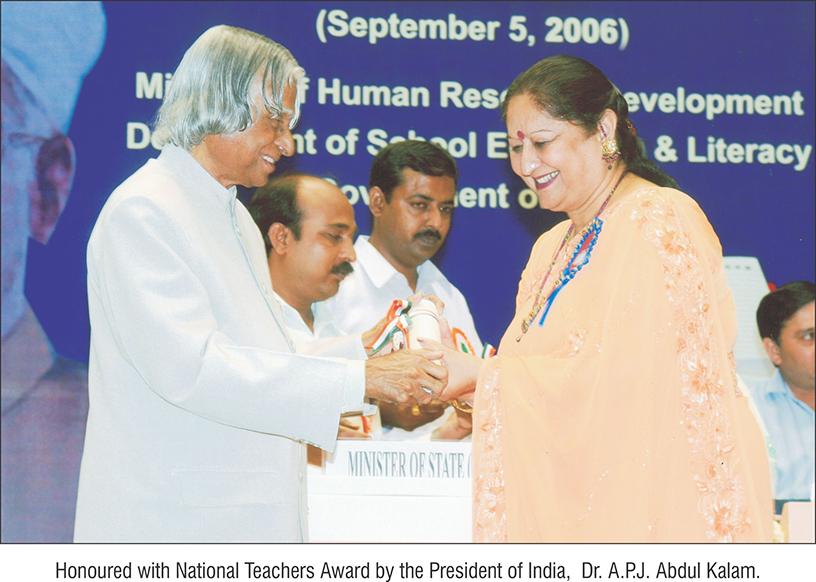 2005- National Teachers Award- In recognition of her valuable services to the community as a teacher of
outstanding merit, she was honored with the National Teachers Award in 2005 by the then President of
India Sh. Abdul Kalam.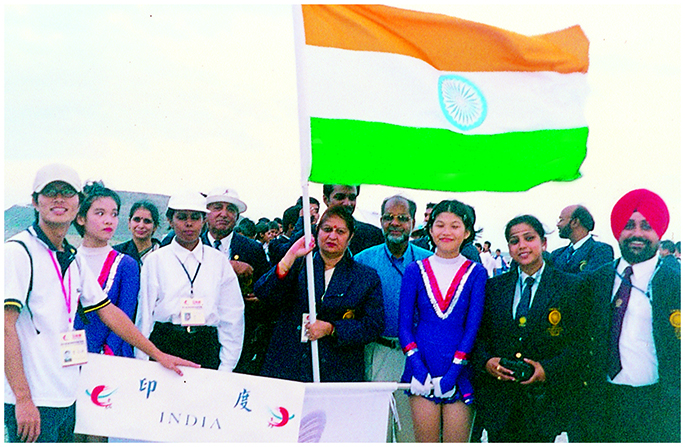 2006- she received Mahatma Hansraj Gold Medal by the Governor of Kerala, Sh. RL Bhatia and
Padmashree Sh. GP Chopra ji. The award consisted of a pure 22-carat gold medal. In the same year, she
received the Tara Chand Saboo Award by the Governor of Punjab.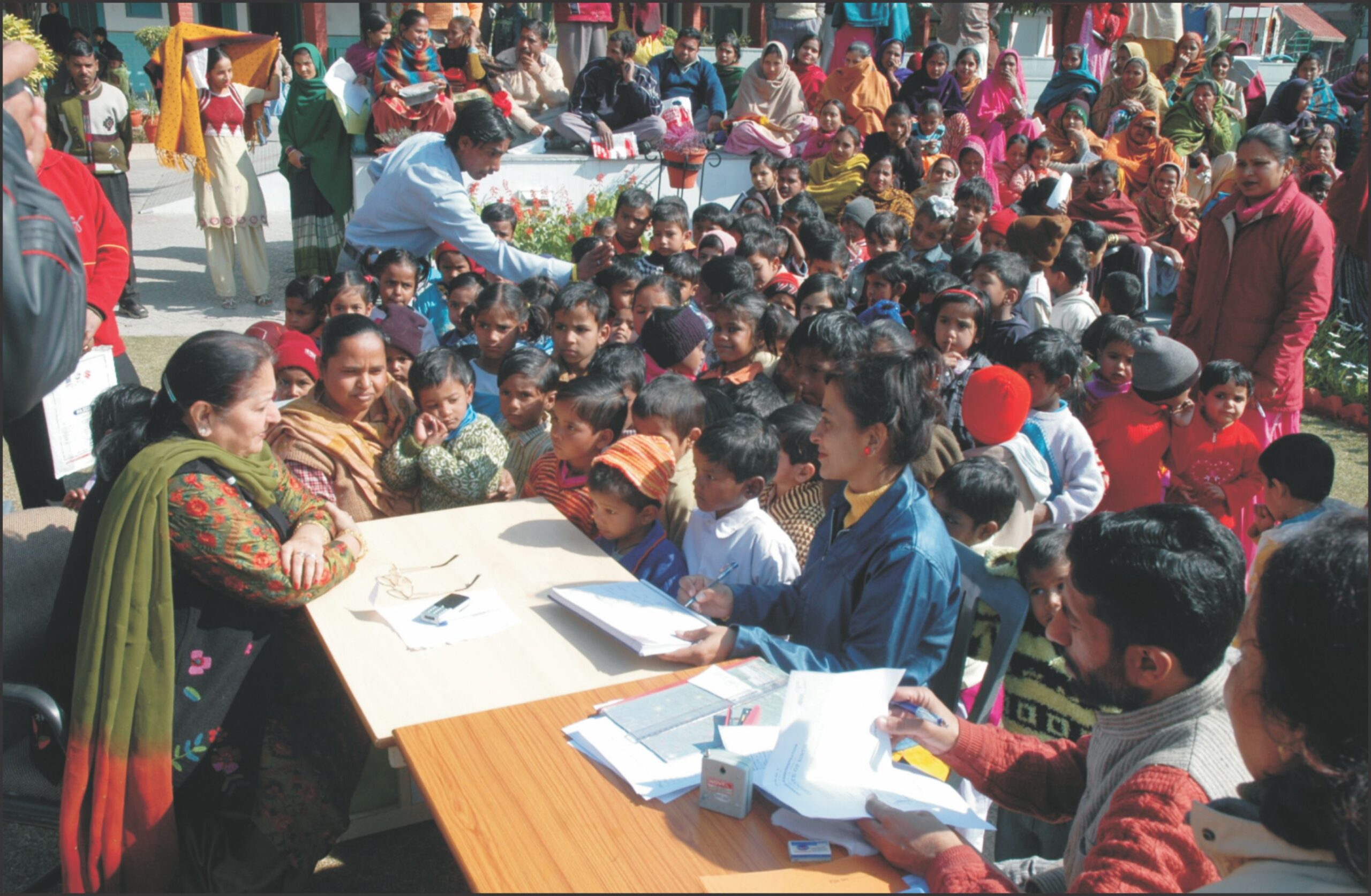 2007- Punjab Rattan Award- She was conferred with 'Punjab Rattan Award' by All India Conference of
Intellectuals, awarded by Governor of Haryana, Dr. A.R. Kidwai for her contribution in the field of Roller
Skating.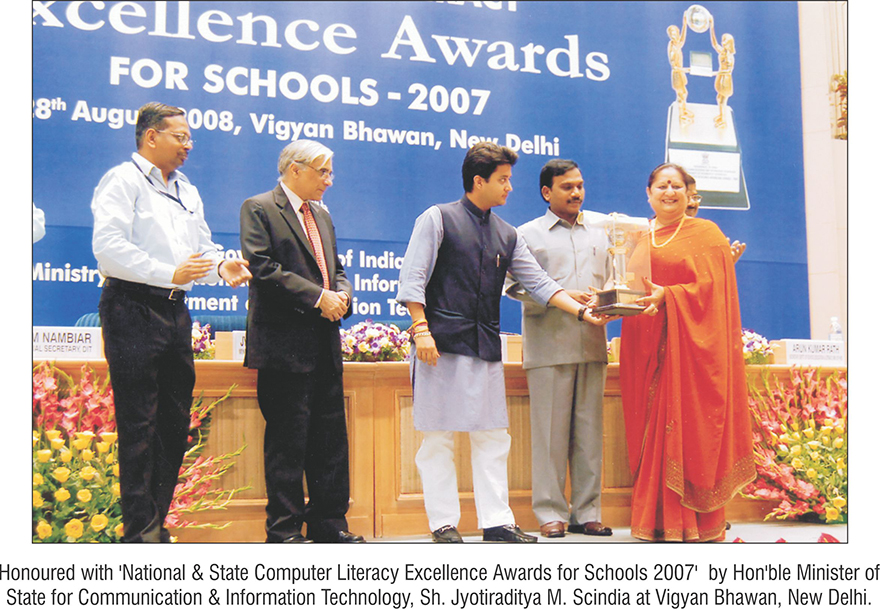 2007- 5th  Computer Literacy Excellence Awards (National & State) – She received this prestigious
honour by the then Union Minister for Communication & Information Technology Sh. Thiru A. Raja. And Minister of State for Communication & Information Technology Sh. Jyotiraditya M. Scindia at Vigyan Bhawan, New Delhi.