A PhD in Education with 28 years of experience as an educationist and a decade long experience as a school Principal, Dr Seema Biji (currently heading Moti Ram Arya School, Chandigarh) can juggle multiple administrative roles. She is an expert communicator who strives to achieve an excellent student success rate and a high parent satisfaction rate. In addition, she loves to motivate her team to attain their full potential. Here is a conversation with her about one education & beyond.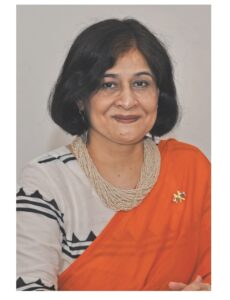 What are the essential human values your school focuses on while imparting education among children?
We strive to impart futuristic, holistic education and instil a high pattern of discipline in the students through our dedicated, committed and devoted staff. Our mission is to help children discover their potential and apply their talent to connect better to the world. We aim to inspire and equip the students to become lifelong learners and responsible citizens. We take along students, parents and educators on this exciting journey. The students are encouraged to develop an open mind, a spirit of inquiry, and creative and critical thinking skills.
How do you keep your faculty/ teachers motivated to keep themselves updated ahead of time?
I want my teachers to believe that every day is a new opportunity to learn in the same way their students do. Our educators are self-evolving, enthusiastic individuals. We provide them with a dynamic platform, encouraging them to imbibe innovative teaching techniques every day to help evolve well rounded, compassionate students.
With the advent of newer technologies and education methodologies, what measures have you taken in your school to keep pace with the times?
Introducing technologies into the classroom is a challenging endeavour, but technology can be productively used in schools on a larger scale. Preparation of teachers to combine technological, pedagogical and subject knowledge is the most crucial in teacher education. In our school, we have strengthened technology using hybrid and blended learning modes, Interactive boards, a Robotics lab and AI-based learning.
What is your view on increasing social media's influence on children's lives and the reduced time parents give to children due to over-busy schedules?
Social media has become a vital part of a student's life. It is now regarded as a learning platform that enhances student engagement and capabilities. These platforms offer school children the opportunity to connect, get in touch, access information and research. However, too much media exposure has had adverse effects on students' minds, and they become victims of bad posture, eye strain and physical and mental stress.
What are the most important life lessons you learned both personally and professionally?
I am an ardent follower of Buddhism, and I believe in a human revolution which means if you want to change your life, you need to see the change in your inner- self. I have learned that I need to change myself and work hard to be a better version of myself. One needs to create good causes in life only then receive goodness in bountiful. Focusing on the positive rather than the negative can help the situation around. Being able to remain positive and look at things with optimism is an invaluable life lesson.
What are the challenges in implementing National Education Policy (NEP)?
The NEP 2020 emphasizes making the education system holistic, flexible and aligned to the needs of 21st-century education. However, to accomplish all these goals, we must overcome all the execution challenges sustainably. The policy envisages the redesign of the school curriculum. To deliver the curriculum effectively, schools and concerned authorities need to train teachers and understand the pedagogical needs to transition smoothly to the new education system. They need to shift from teacher-centric learning to studentcentric learning to foster critical thinking, problem-solving and decision-making abilities.