An enthusiastic and dynamic personality, Pradhuman Singh, is currently serving as an HCS officer on deputation with Chandigarh Administration. As Director, Transport and Head of Registration and Licensing Authority (RLA), Pradhuman shares some interesting insights on new practices being followed in the city and about facilities for the general public.
Please walk us through the steps taken by RLA to ensure hassle-free facilities.
We are making the entire process for getting a Driving License as well as Registration of Vehicles completely faceless/contactless and adopting online measures to make the paperwork hassle-free for the public. On the implementation of these services, the general public can get the Driving License as well as Registration Certificate (RC) of a vehicle directly at Home without visiting the office of RLA. Thanks to technology, with a click of a button, anyone can get their registration done, learners' licenses, and more. Hopefully, in a couple of months, we will implement this measure.
Is there a helpline or inquiry number for RLA, Chandigarh? For senior citizens, is there any special facility?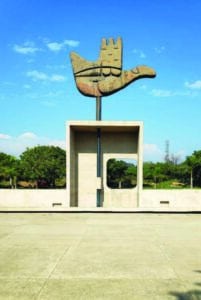 Absolutely yes. We have deputed a dedicated team by opening a help desk/Enquiry desk on the office premises to facilitate the general public. The inquiry number for RLA is 0172-2700341. We have dedicated a special day, Saturday, for senior citizens, differently-abled persons and defence personnel, when they can walk in, even without an appointment. For any inquiries or clarifications, they can call our helpline number.
Fancy numbers are a craze nowadays. Can city residents who already have VIP/fancy registration numbers of vehicles retain the same for new vehicles?
Yes, in Chandigarh, they can. It's subject to the individual case, and if all the terms and conditions are met, the registration numbers can be retained. Since you are the Director, Transport for Chandigarh, please tell us about the novel idea of running electric buses in the city. We are in the process of making our city beautiful more environment-friendly. Hence, Electric buses were considered, and currently, we have 40 Electric buses on the road. Also, the next lot of 40 Electric buses will be on-road very shortly. Apart from the Electric Buses, the buses running on diesel will soon be converted into CNG because of the environmental consideration and cost-effectiveness. We are in the process of implementing this very shortly.
Please share some women's safety measures being followed by UT transport.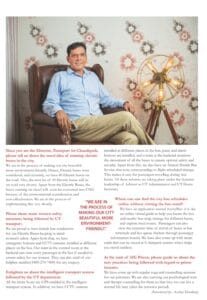 We are proud to have female bus conductors for our Electric Buses keeping in mind women's safety. Apart from that, we have emergency buttons and CCTV cameras installed at different places on the bus. Our team in the control room at the backend can view every passenger on the bus if needed to ensure safety for our women. They can also avail of our helpline number(1800-274-7400) for any enquiry. Enlighten us about the intelligent transport system followed by the UT department. All the Tricity buses are GPS enabled in the intelligent transport system.
In addition, we have CCTV cameras installed at different places in the bus, panic and alarm buttons are installed, and a team at the backend monitors the movement of all the buses to ensure optimal safety and security. Apart from this, we also have an Airport Shuttle Bus Service that runs corresponding to flight scheduled timings. This makes it easy for passengers travelling during wee hours. All these reforms are taking place under the dynamic leadership of the Advisor to UT Administrator and UT Home Secretary.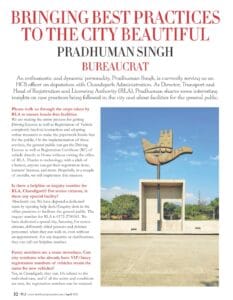 Where can one find the city bus schedules online without visiting the bus stand?
We have an application named trycityBus- it is like an online virtual guide to help you locate the bus and nearby bus stop, timings for different buses, and explore local routes. Passengers can also view the expected time of arrival of buses at bus terminals and bus queue shelters through passenger information boards. We have also come up with smart cards that can be issued at E-Sampark centres which helps you travel cashless. At the rank of AIG Prison, please guide us about the new practices being followed with regard to prison inmates. We have come up with regular yoga and counselling sessions for our prisoners. We are also carrying out psychological tests and therapy counselling for them so that they too can live a normal life later (after the sentence period).