If you thought Indian weddings are mere pomp and show, Indian film celebrities Alia Bhatt and Ranbir Kapoor have broken the concept to have a 'different' wedding and they truly did it their way! Here are all the details capsuled in one go…
The Super Intimate Wedding- Small Gathering
Alia Bhatt, daughter of filmmaker Mahesh Bhatt and actress Soni Razdan, tied her knot with Ranbir Kapoor, son of late actor Rishi Kapoor and actress Neetu Singh, on 14th April after a continuous 5-year relationship.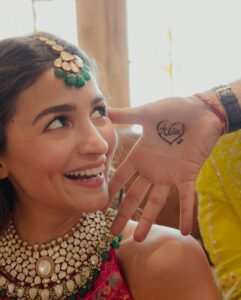 The wedding was very less communicative and only 50 guests were invited, including their families and close friends. They didn't book any special venue, the wedding took place at Ranbir Alia's Pali hill apartment "Vastu". 
Simple Ceremony
The wedding was very simple and was the most anticipated one. The fans were eager for the event but it was very intimate. And was disclosed in a simple way. Interestingly there were only 4 'pheras' instead of 7, reveal insiders.
The Outfits, Makeup & Jewellery
Alia Bhatt was wearing a 'Hand-Dyed Ivory Organza' sari embroidered with fine tilla work and an embroidered handwoven tissue veil. The wedding date was inscribed on the veil, it was reading, "The fourteenth of April 2022". Jewellery was suitably paired. Sabyasachi Heritage Jewellery featuring uncut diamonds and hand-strung pearls made Alia stand out. Bride's unique 'Kaleeras' were featuring Ranbir's lucky number 8 and were of a rather unique design comprising clouds and stars. Her 'mangalsutra' also had a design of 'infinity', marking Ranbir's lucky number 8, near the pendant. She was wearing 'mang tikka' along with a 'mathapatti' in typical Rajasthani style. Alia's open hair, unlike tied hair or bun of most Indian brides, was unusual!
Ranbir Kapoor was wearing an embroidered silk sherwani with Sabyasachi uncut diamond buttons, a silk organza safa, and a shawl with zari marori embroidery.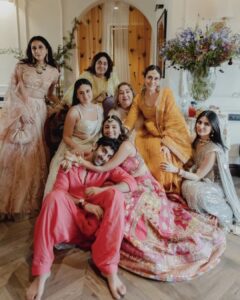 Ranbir wore the Kilangi by Sabyasachi Heritage Jewellery featuring uncut diamonds, emeralds, and pearls and a multistrand pearl necklace. Alia's minimal face makeup made her deep, pretty dimples stand out. Her mehndi design was elegant and classy, with minimal design and breaking the stereotype of covering hands to the top with wedding designs.
Alia & Ranbir- names of the Horses gifted! 
A non-profit organization, Animal Rahat named and gifted two inseparable horses (who were rescued from different locations) to Ranbir and Alia. The bride saw this on Instagram and expressed her excitement when he mother posted and appreciated the effort by the NGO.