Prof Arvind Rajvanshi, Executive Director & CEO, AIIMS Rae Bareli, UP.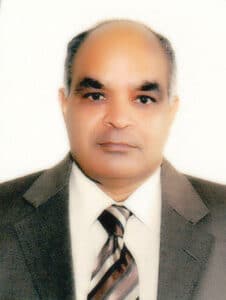 He is an eminent doctor and is currently heading two prestigious AIIMS- Rae Bareli (as Executive Director and CEO) and AIIMS, Rishikesh as Director. His vast, four decades of experience in a prestigious institute like PGIMER Chandigarh is helping him do the impossible- to now create a world-class medical institution in Uttar Pradesh. Here is an interesting conversation with a medical veteran- Prof Arvind Rajvanshi.
How has your journey been for the last 40 years, please share something with us?
I did my MBBS from the Indira Gandhi Medical College, Shimla (Himachal Pradesh), in 1977. I later did MD Pathology from the Postgraduate Institute of Medical Education and Research (PGIMER), Chandigarh, 1981. Then I did my MRC Pathology in 1994 from the Royal College of Pathologists, London. After that, I joined as Senior Resident at PGIMER, Chandigarh and joined as a consultant in the same Institute. I was heading Cytology and Gynecological Pathology, PGIMER, Chandigarh, from 2003 to January 2020. When I came here, it was a small hut here. Right now, it is a sprawling campus! My aim is to make AIIMS, Rae Bareli, a world-class hospital. We have already started all testing facilities here.
CT scans, ultrasound and many more facilities are now available. We installed the Cath lab, and we now have many super specialities in AIIMS Rae Bareli. Most facilities are currently functional at the hospital, including GI surgery, general surgery, and Gynaecology surgery. We have got the necessary sanctions from the government, and we are also commencing radiotherapy and nuclear medicine here. My journey of 40 years in a prestigious institute like PGI Chandigarh is helping me establish AIIMS here.
How do you de-stress from work? What is your life mantra?
If I am working in the hospital, I am fully there. When I return home, I watch a cricket match or any sport. I listen to music. I watch current affairs, but I am totally in my personal space then. I forget to work at home. That's my mantra. Do not bring your work at home and vice-versa. Just be 100% in whatever you do!
Most challenging time in your professional life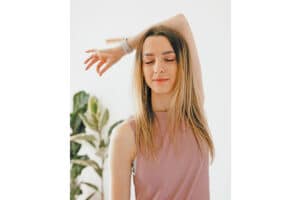 There have been several challenging experiences during my vast experience of 40 years. But establishing AIIMS, Rae Bareli is by far the most challenging task. Running an institution that is already established is no big deal. But creating institutes from scratch is very tough. Nowadays, technology is very fast-changing. We need to keep pace with the times. Also, it is very important to keep the flock together. A director or Head of the Institute is only a facilitator. Taking the team of doctors along is immensely important.
What is your message to young medical aspirants? Is there more competition now to enter government medical institutes than in your times?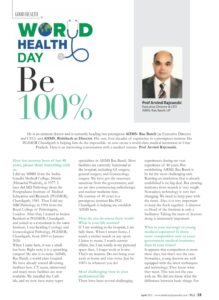 It appears that competition is more these days, but that's not the case. Nowadays, young doctors are well equipped with the latest techniques and technology. They know what they want. This was not the case with us. We did not know the difference between basic things. For instance, we did not even know the difference between PGIMER and another medical institute! So young medical aspirants today have an edge in terms of access to technology and advanced learning.
What is your suggestion to senior doctors in your field?
Work hard if you want to make it big. It is important to take people along. Listen to your juniors. Don't demotivate juniors. The future is in their hands. One must develop the second line of control. You must train younger doctors to replace you. When senior professors leave the Institute, things must go smoothly, in fact even better. Therefore train your juniors to become as good as you!
Your message on World Health Day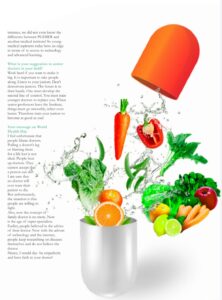 I feel unfortunate that people blame doctors. Pulling a doctor's leg or blaming them for a life lost is not ideal. People beat up doctors. They cannot accept that a person can die! I am sure that no doctor will ever want their patient to die. But unfortunately, the situation is that people are willing to fight. Also, now the concept of a family doctor is no more. Now is the age of super-specialists. Earlier, people believed in the advice of their doctor. Now with the advent of technology and the internet, people keep researching diseases themselves and do not believe the doctor. Hence, I would day- be empathetic and have faith in your doctor!