For any travel lover, exploring new places is the ultimate luxury! We highlight in this column, one of the most historic parts of North India, Kurukshetra the Great. A travel lover will get glimpses through religion, culture, wars, museums, temples, holy baths, and much more. So pick up your 'Chai ki pyali' and dive into the land of Mahabharata, and here we go.
Kurukshetra is a well-known historic city and the land of Mahabharata.
It is named after King Kuru, the ancestor of Kauravas and Pandavas. It is located on the Chandigarh-Delhi Highway, roughly 93 Kilometres from Chandigarh. It is well known for its sheer number of historical sites, temples, museums, and other religious and cultural sites. The journey starts with the city's main attraction, Brahma Sarovar, located near Kurukshetra University. Most cultural and religious events are held near the Sarovar, so they are always occupied with various events and are a must-visit.
Like Brahma Sarovar, other water bodies like Bhishma Kund and Sannihit Sarovar are located not far from the Brahma Sarovar and could be a nice place to visit if time is not limited. Museums and Panoramas are a big attraction in the city. Some are well-known as Shri Krishna Museum, Dharohar Museum, Kurukshetra Panorama, Science Centre, and Kalpana Chawla Memorial Planetarium.
All these places are located not far from each other; the farthest is Kalpana Chawla Memorial Planetarium, only about 1.8 kilometers away from Brahma Sarovar. The museums showcase the vibrant history of Kurukshetra and the rich cultural heritage of the entire area. At the same time, the Panorama and Science Centres showcase various scientific and technological artifacts and some mind-bending puzzles and items.
Apart from Museums and Ponds, there are also various other sites like Sheikh Chehli Mausoleum, Raja Harsh Ka Tila, Raja Karan ka Tila, and whatnot. Temples for religious lovers are a great reason to visit Kurukshetra City. The city hosts many temples of historical importance like Bhadrakali Temple, Sthaneshwar Mahadev Temple, Lakshmi Narayan Temple, Bala Sundri Mandir, and much more. Moreover, just outside the city, one can witness Lord Krishna giving the Bhagavad Gita Gyan to Arjuna, known as Jyotisar, the Birthplace of Bhagavad Gita.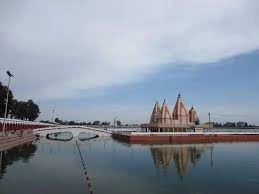 Here you will witness many eye-catching things, including various dance forms, vibrant culture, different colors, unknown artists with outstanding arts, chill, thrill, and a thousand smiles all around. 'International Gita Mohatsav' is the most fantastic attraction of Kurukshetra. It is celebrated every year in December to provide Moral and Cultural insights to the masses in recent hard times. It started in 1989 with collaborated efforts of Govt. of Haryana and the Kurukshetra Development Board. In the beginning, only cultural and religious programs were the main attraction of the International Gita Mahotsav. Still, with changing times, many academic and social events are organized like Blood Donation Camps, Eye camps, Marriage of poor youth, adoption of orphan kids, and many more.
This event is a sight to behold. Here you will go through an immense expanse of art and craft, dance, style, drama, adventure, songs, religion, holy bath, smile all around, and a lot of charm and spark. Moreover, various seminars are organized by Kurukshetra University. Many enjoyable events are held, such as exhibitions, a water laser show at Brahma Sarovar, and various Sammelan in which people from all over the world participate enthusiastically. Various competitions are also a part of Mahotsav like Rangoli, Pencil Sketch, Wear Your Heritage, Photography and Videography, etc. So, the youth can also be a part of the big celebration and learn more about the culture and history. For the past two years, tourism has faced many issues due to Covid-19. The graph of tourist's visit fell in recent times, as the local guides here stood jobless for an extended period. And now, when the events started, they are enclosed inside many rules and regulations—not allowing mass gatherings, following strict protocols.
Also read this: Plan Your Next International Holiday : India to Azerbaijan
It is the most refreshing and soulful place in Kurukshetra. Brahma Sarovar is a big water body near Kurukshetra University. As a historic site, it is well maintained and hosts a giant bronze chariot of Lord Krishna giving Gita Gyan to Arjuna. On the pillars surrounding the Sarovar, inscriptions depict the events of Mahabharata. In the middle of the Sarovar is the temple dedicated to the site. The best time to enjoy a beautiful view is either during sunrise or sunset. Shree Krishna Museum Located just 800m away from Brahma Sarovar is Shree Krishna Museum. This museum is dedicated to the life of Lord Krishna and the events of Mahabharata. Every event is portrayed in the form of stone carving. The carvings' art and style are unique and; it tells various stories without using a single word.
'Covid-19' was a big challenge!
The Tourists' Visit Graph hit the ground so hard that the local business will take time to come over the colossal loss. There were zero sources of income left for the local tourist guides, as they were dependent on the tourists for their meals. All the small businesses and part-time artists met an exclamation mark at that stroke time. Also, people who were not having permanent residence faced the most severe trouble, and they were compelled to go back to their hometowns. Maintaining strict rules and following protocols to stay protected was not easy. Moreover, they were not having enough money for their tickets back home; the situation was so miserable back then! It was tragic for the budding artists keen to learn new things every day as they were stuck between four walls, and there was no opportunity to knock on their doors. Although the city is small compared to other large cities, the sheer amount of cultural and religious heritage sets it apart from the rest and makes it a place one needs to visit at least once in their lifetime.
The Best Time to Visit Kurukshetra Between October to March is the best time to visit Kurukshetra. The winter months are ideal for a comfortable stay and sightseeing around the mythical city of Kurukshetra.