A Tribute to Capt Vijayant on this Kargil Diwas (July 22)
"Dearest Papa, Mama and Granny,
By the time you get this letter, I'll be observing you all from the sky, enjoying the hospitality of the Apsaras. I have no regrets. Even if I become a human again, I'll join the Army and fight for my Nation. So, if you can, please come and see where the Indian Army fought for you tomorrow."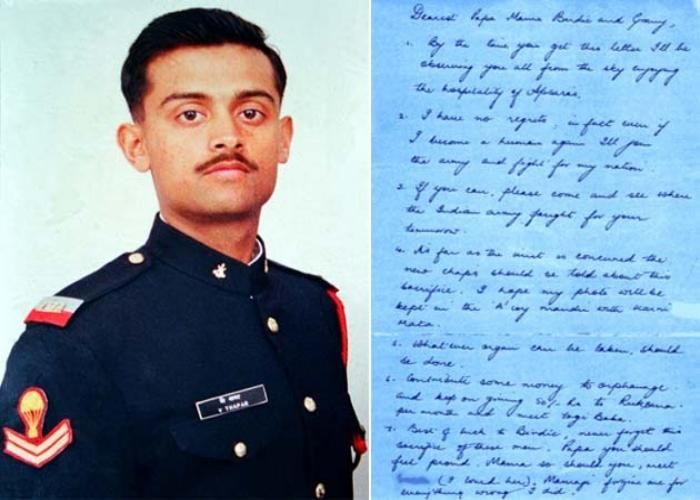 These were the words in his famous last letter to his parents by Captain Vijayant. An unusual friendship, an arduous journey, a bitter war and a song became the unique message of a 22-year-old martyr.
It was the summer of 1999 and in a remote place filled with hills, snowdrifts and sky blue rivers, 527 young warriors of the Indian Armed Forces fought and died in this desolate place in India's first televised war—KARGIL and among them was 22-year-old Captain—Vijayant Thapar.
On a moonlit hill, where Vijayant achieved martyrdom, hangs his portrait alongside a goddess at the Sangar where he died. He forged an unusual friendship with Ruksana, a young Kashmiri girl who had befriended him when she was a lost three-year-old. So rich was the life of this young soldier though he died young.
He was an avid debater and a champion swimmer, but few know about a passion that Captain Vijayant, who received the VEER CHAKRA posthumously, had. As he fought a counter-insurgency in Kashmir before laying down his life in battle on June 29, 1999, Captain Vijayant loved cheering up his mates by singing. Surprisingly his nickname was Robin too.
The song of the Robin is a string of ten or so clear syllables and often summed up as cheering up. Captain Vijayant's favourite song was somewhat similar, which he sang to the banging of dongas and karchul's by his mates in Kupwada, just below the Kargil border.
"Chalte Chalte,merey ye geet yaad rakhna,
Kabhi Alvida na kehna."
(While walking, remember this song of mine–
Never say farewell)
Some songs echo on forever.
Salute to a brave soldier.