Scents Of Desire: A La Folie is a brand handcrafting über luxurious candles with private blends of complex fragrances, playing on notoriously seductive and indulgent notes. Whatever the occasion, candles heighten the timelessness of the moment and our fragrances have been designed to evoke the poet in you, leaving lingering memories in its wake.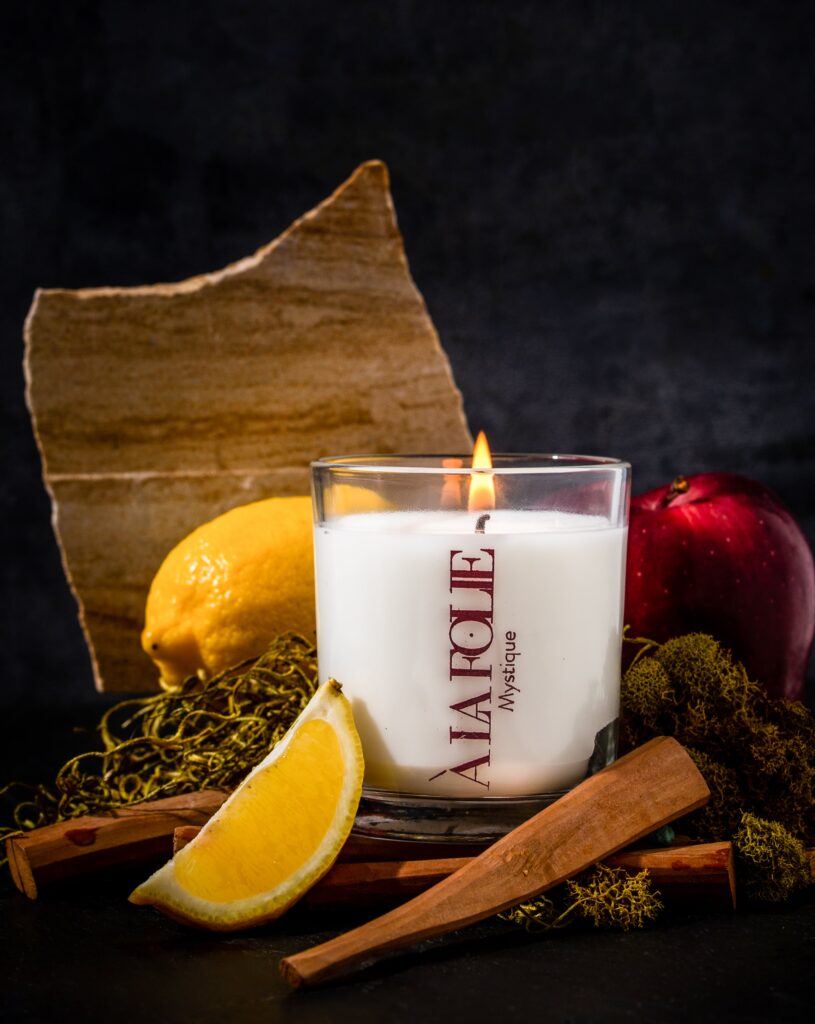 Á La Folie literally means "to the height of madness" and it is with this intensity and passion that
ALF's debut collection, celebrating six stages of love and desire, was launched in January 2022.
A teasing melody of scent and style, each candle has been designed to be – minimalistic,
decadent and super chic – to desire and be desired!
The brand has been co-founded by two friends-turned family – Prerna Gupta and Jagmani
Singh. Being connoisseurs of scents, both partners are guilty of owning large collections of
scents including several limited edition private blends from across the globe. However, seeing a
huge void in the Indian market for über luxurious experiential brands, the two sought to create a
brand synonymous with luxury in every household globally.
The sense of scent is a part of the emotional brain where our personality lies. Linked most
strongly to our emotions, memories, perception of time, healthcare, productivity and taste,
studies indicate people remember the scent of a place or an event with 65% accuracy even
after a year vs. 50% accuracy for the sense of sight. Befitting of the uncertain and stressful
times we're living in, the candles are a perfect pick to rejuvenate from the tyranny of day to day
demands and to celebrate life.
The debut collection has been designed around the six stages of love – Innocence of Infatuation
(Echo), Headiness of Temptation (Mystique), Layers of Seduction (Tryst), Yearning for Love
(Unrequited), Depths of Tenderness (Intertwine) and Celebration of Commitment (For Keeps).
The duo have used their personal experiences and those of their friends to describe each stage
in terms of emotions which has then been transformed into a complex scent with an in-house
perfumer. Series of perfecting through mystery testing across age groups has resulted in this
collection. Consider Unrequited – everyone has been through the feeling of yearning for
reciprocation of love which has been beautifully brought out with top notes of lavender, mint,
rosemary and coriander, augmented through heart notes of sandalwood, neroli, geranium and
jasmine basking on an undertone of musk, oak moss, cedar wood and amber – you can literally
smell the ocean with a hint of woods beyond and the warmth of the sun – the promise of your
very own paradise with your beloved. The aim is to evoke memories and emotions typically felt
through the stage signifying the candle.
The brand prides itself on being home-grown, genderless, delivering on globally accepted
product standards, experiential and being sustainable. Created with 100% natural ingredients,
from natural soy wax to braided cotton wicks, the products promise long-lasting indulgent
fragrances with even burn pools and no wax tunneling. The debut range is of glass candles
keeping with their chic yet minimalistic approach along with a centerpiece, For Keeps, which is a
truly spectacular translucent marble home decor candle. The candles come in beautiful and
dramatic packaging worthy of high-end gifting.
Being rooted in the philosophy of promoting inclusivity, the brand is women led and several key
team members are from the LGBTQ community.
These luxe and über chic products are available to purchase online through their website
www.alafoliefragrances.com and also via DM on their Instagram @alafoliefragrances.
Delve into the world of desire evoking scents and adorn your home and gifting regimen with
statement pieces from Á La Folie.