Manmohan (Mac) Sarin, a Senior Advocate practising in the Punjab & Haryana High Court, has been a torchbearer in guarding the beauty and essence of the city beautiful Chandigarh and its surroundings for years!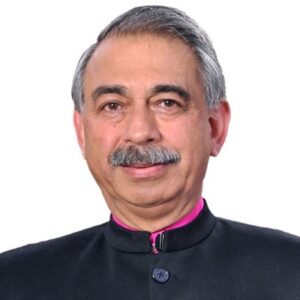 The French government has twice knighted him in recognition of his philanthropic work in protecting Le Corbusier's City Beautiful. Here is an interesting interview with Mac Sarin, enlisting insights into his life and profession.
Please tell us about your family legacy since Sarin and Co. is one of India's oldest and leading law firms.
My father, Harbans Lal Sarin, joined the profession in 1932, was the first of an agriculturist family to pursue law and achieved resounding success over the sixty-two years of his practice. However, he endured many struggles throughout his journey when he had to leave his established practice in Lahore and relocate to Shimla following the 1947 partition. Once the High Court shifted to Chandigarh, he had to uproot his practice once again. Our family has been in Chandigarh since January 1, 1955, and is one of the oldest settlers of the city. I joined the profession over 50 years ago in 1971, and the practice was carried onto the third generation with my son Nitin Sarin in 2008. Being Advocate General of Punjab twice and once of Haryana was the icing on the cake.
How did you go from studying at IIT Bombay to studying at Northwestern University School of Law in the USA?
I was actually at IIT Bombay just for 21 days and ran away during the severe drought of 1966. I used to play cricket at Lake Powai because it had completely dried up from the extreme weather conditions. The students could not afford a second cup of coffee due to the famine and shortage of food.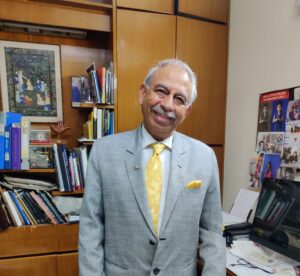 I joined BA after my return and eventually pursued law, which was the best thing to ever happen to me. After practising for seven years, I pursued my master's degree from Northwestern University in Chicago, and the exposure I attained was nothing short of phenomenal. As one of the early settlers of Chandigarh, please tell us about your and your family's contribution to the Blood Bank Chandigarh. The Blood Bank society was started in 1964 by my mother-in-law, Kanta Saroop Krishen. The PGI had recently been set up in Chandigarh, and people would expect money in return for donating blood, in the country. Along with a handful of more ladies, she started the Blood Bank Society. They came out victorious in their efforts since not a single drop of blood has been bought and sold in Chandigarh to date, and all of it has been donated through voluntary sources. Our entire family contributes to this noble cause, and I have donated blood 115 times and my wife, Niti, 67 times. Over and above that, we helped file public interest litigation (PIL) inat the Supreme Court of India in 1992, which banned the buying and selling of blood throughout India with effect from January 1, 1998.
What inspired you to form the St. John's Old Boys Association (SJOBA)?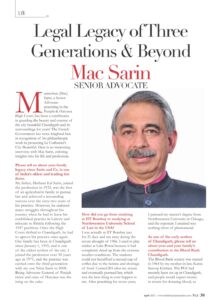 I was in the second batch of ten to pass out from the school, with only seven students in the first batch, including Kapil Sibal (former Union Minister). The first two attempts to form the Association resulted in failures in 1969 and 77 respectively because there were only 100-150 old boys. Ultimately the third attempt became a success on July 19, 1980. I could have never imagined for the Association to reach a global scale as we now have members from the America Chapter, Canada Chapter, Australia Chapter, among others.
What are the main objectives that the Sarin Memorial Legal Aid Foundation aspires to fulfil?
My younger brother, Ranjit Lal Sarin, was also a lawyer who unfortunately passed away at a very young age of 30. My father breathed his last less than just three years later, in 1993. The Sarin Memorial Legal Aid Foundation was initiated in honour of their memory. Over the years, we have organized Moot Court competitions and organized special lectures addressed by many dignitaries such as the Chief Justice of India. In 2009, we started 'The Leiden Sarin International Air Aviation Law Moot Court Competition', the only one of its kind globally and a joint venture of the Sarin Memorial Legal Aid Foundation and the Leiden University in the Netherlands. The first exclusive Air Law Moot Court was held in Delhi in 2010, followed by Dubai, Istanbul, Abu Dhabi, Romania, Beijing, Jakarta, etc. The 2019 edition was held in Chandigarh, attended by judges and students from fifty-seven countries for four days.
A message you would like to impart to young law aspirants?
Having an optimistic perspective can help you go a long way in life, even in the most distressing situations. So, try to stay positive in your thought process and actions and achieve all your aspirations diligently, without looking for shortcuts!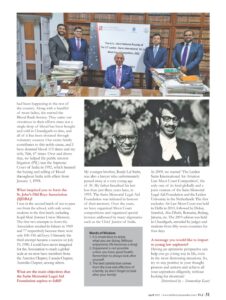 Words of Wisdom
1. It is imperative to enjoy what you are doing. Without enjoyment, life becomes a drag!
2. Enjoyment is not possible unless you have good health. Remember to always look after yourself.
3. The best satisfaction comes from the love and affection of a family. So don't forget to look after your family!
(Interviewed by – Simmerdeep Kaur)