Launched in 2015, Zephyrtone is a fast-rising music duo comprising Sayan and Zephyr (produced and vocalist). The two grew up listening to a lot of pop and electronic music and were influenced by artists like Avicii, Zedd, Krewella. Here is an interaction with the rock stars.
Would you please describe your journey? How did it all happen?
It all started back in 2013 when we met at a music school in Bombay. We shared a mutual interest in music; that's what attracted us to each other. It was our passion and desire that drove us to make it into the music industry.
Is there any special significance to your Instahandle name? How did it come up?
The word in itself is unique, Zephyrtone. Zephyr means cool breeze by the seashore. It describes the kind of music we create- soothing, music that relaxes the mind. Very apt.
When did you realise your love for singing?
Being a pop star was one of the things that I always had at the back of my mind. Growing up, so many musicians inspired me. My dad had a collection of cassettes I would listen to, and I'd try to catch up with the lyrics, melody when I was only 3. I remember someone gifted me a toy mic for my birthday when I was four, and it legit worked like a professional mic. That was a price possession for me.
When I was little, I used to stand in front of the mirror and perform and sing my heart out and manifest and dream about singing on stage.
And now, at times, I look back. It's somewhat funny; it's happened for real. My dreams have come true. But, it feels surreal to sing for thousands on stage.
Do you also write songs? What is the process behind it?
Oh yes, of course! That's what we do! We write/compose/ produce original songs. Many people who've started following us recently or during the pandemic mistake us for cover artists. We started covering songs during the pandemic since all our live shows were off, so we decided to keep our socials going by posting cover songs.
Would you please take us to the creative process behind creating/producing music?
It's a smooth process for us. It's never like, 'we have to kill this song right now! It happens out of creative fun. We never have conflicts of ideas while working on a project. We're like, 'ah, this sounds nice, that sounds beautiful and then suddenly we have a track-ready. We love working that way. It's always a result of an impromptu jam session.
What was the most memorable experience so far?
We remember that one call from our manager back in 2016 telling us we had to perform at a concert in Mumbai. We were so stoked to play our first-ever live show! It was a breathtaking experience for us since it was our first time performing for thousands. The crowd was so synchronised; we had goosebumps on stage. Our first show will always hold a special place in our hearts.
Your role models?
We are being brutally honest on this one. We don't have any role models. We are purely ourselves when it comes to our music. We don't try to imitate someone in the process.
I think it's safe to say we are inspired by each other.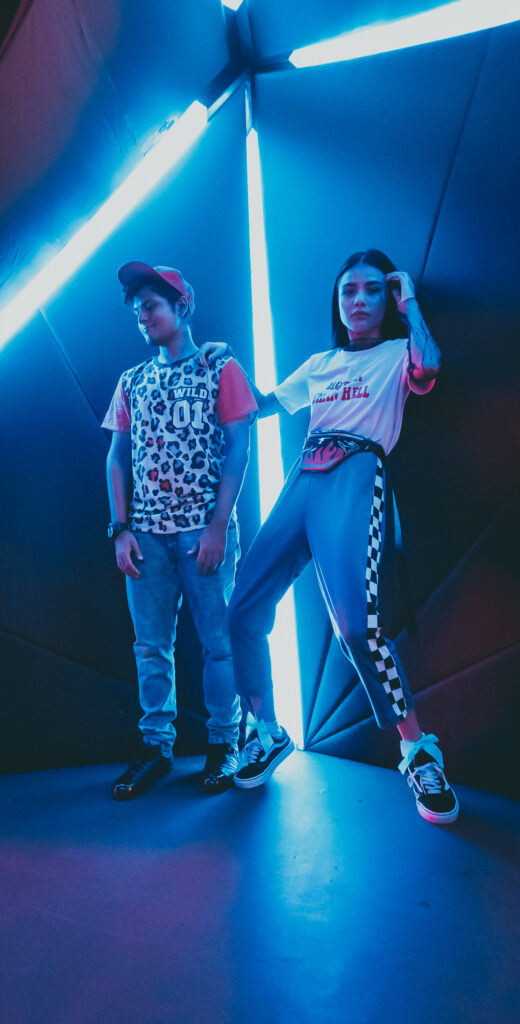 Your favourite singer. National and International?
We like Halsey, The Weeknd, Ed Sheeran, Khalid, Taylor Swift, Charli XcX, Lana Del Ray, Sam Smith, Tove lo, Lauv, Annie Marie, to name a few.
What is one thing that makes your singing different from others?
I try to keep it sweet and simple.
How do you process criticism and negativity?
We are always open to constructive criticism, and we try our best to improve.
We receive very few hate/dirty comments from fake accounts, and we make it a point to call out or reply to them.
What do you do in your spare time?
Fight with each other, haha, cook, cuddle, cycle, play games on PS.
The most adventurous thing you did last year
Played our first gig after nine months of lockdown in a room full of unmasked people.
Do you keep track of what people are talking about you on social media? Does it affect you when they say unfavourable things?
Yes, we keep track.
It kind of affects us when people get personal and say things that are not true about us.
How did you adapt your music to the pandemic?
Before the pandemic hit, we used to be constantly touring for shows, and it used to be a little difficult for us to balance our studio time. So, during the pandemic, we decided to make the most of it, and we got more time in our hands to work on our original releases. As a result, we released seven songs and music videos during the pandemic, and we couldn't be more proud.
What are your plans?
To earn lots of money so we could make great music videos.