She can carry a Burberry stole; a pair of Gucci shoes and aptly match it with her firebrand speech and interesting arguments. But, while this may be the way she has been brought up, she can discard her branded outfits to get into muddy puddles in her constituency in Delhi or wherever needed for her work. Meet the Indian Minister Mrs Meenakshi Lekhi, who hails from a family of legal luminaries and stalwarts (her father law Mr Prem Nath Lekhi was a leading lawyer of Supreme Court of India and her husband Aman Lekhi, a senior lawyer is the Additional Solicitor General of the Supreme Court). She has carved a niche for herself in Indian politics and is currently among the 11 women Cabinet Ministers in PM Modi's government. Performance has no compromise in the current cabinet, and with substantially high attendance in the Parliament, she is spot on the job! An otherwise happy-go-lucky person who would not mind just lazily enjoying her cup of coffee on a couch. But dare her to do something and you will see that there is nobody better than her at the task! When her party assigned her to lead Punjab elections in the 2022 campaign, her Punjabi background and dialect connectivity came in handy. She could swiftly converse in Punjabi with media or party workers. All this coupled with her fiery spirit and Sankalpa to take on challenges, makes her a complete fighter!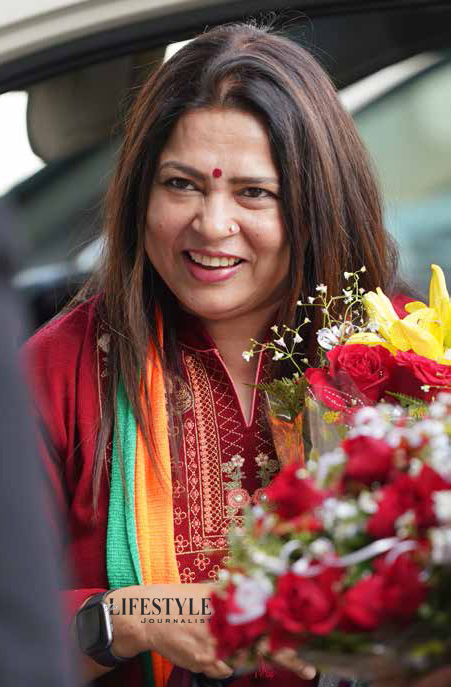 Be strong and natural. Listen to your heart and mind. Whatever you are convinced about, work in that direction. No obstacles should be able to stop you from achieving your goals. The power of perseverance supersedes everything!
I am in public life to do good for the public and serve the nation. One must live for a more significant cause. I am grateful that I got the affection and strength of my family. One's training as a child goes a long way in impacting one's personality. All the people in my life- be it my teachers, or elders, my children, and my husband- everyone has contributed to my journey in a beautiful way. My family has always been there and has been tremendously supportive. Be it financially or emotionally, they have always stood by me and, very importantly, without interfering. They have supported me without conditions and with complete trust.
I come from a very philosophical family where everyone is very dispassionate yet care for each other. We like to keep things compartmentalized in life. Being a Punjabi, I am headstrong, which naturally reflects in my personality. Therefore, if anyone dares me to do something, I take the challenge head-on. I am open to corrections.
My sons (Pranay & Anirudh Nath Lekhi) handle issues on their own. They are very individualistic and strong in values. Even if their friends or others suggest that they can get things done easily due to the family's influence, they will choose to stand in a long queue and get their work done independently. Even if offered any help, they will decide otherwise. Their value system is like that.
Life is very imbalanced- at each step, there are many turns and twists. Keeping balance in imbalance is essential. One must be steadfast in what one does. Believe in yourself and keep giving your best.
It was a mid-life crisis. There was this constant question in my mind- what more? Then there came an opportunity during the 2014 elections. If there is a challenge, I will live up to the situation and take up the challenge. Facing problems, head-on is in my DNA.
Yes, indeed, in a positive and contributing manner. Our PM is himself a source of immense inspiration. When the head of the state is a role model, there is no way others can falter. Everyone is expected to perform. Excellence and performance are both crucial parameters in his team.
Your triple talaq speech in Parliament was much discussed and appreciated. I was very much involved with the journey of the triple talaq bill since the beginning. During the days of Mohd Ahmed Khan versus Shah Bano begum case, Mr Latifi used to visit my father-in-law for his advice on the matter. From the time the right to maintenance for Muslim women was repealed during Rajiv Gandhi's government, which was against the secular ideology of our nation, I have been closely following the case. I have personally read Quran; therefore, this bill and this issue were close to my heart. This is the reason I was engrossed in the subject.
To keep serving 'Maa Bharti' (Mother India).