Dr Jagannath Prasad Das, IAS, more famous as JP Das, is a very familiar name, not just in Odia Literature but also in Pan Indian Literature and cultural circles. He is an ace author, dramatist, and novelist.
It is the second half of the nineteenth century, and Odisha is undergoing an interesting transformation under colonial rule. It is 1866, and there is a cataclysmic famine. Meanwhile, Divyasingh Dev inherits the throne of Puri, becomes a debauch, ultimately a murderer and is banished to the Andamans for life. As the East and the West clash, there is a tremendous intellectual and cultural ferment and Suryamani, the Rani of Puri, emerges as the real ruler.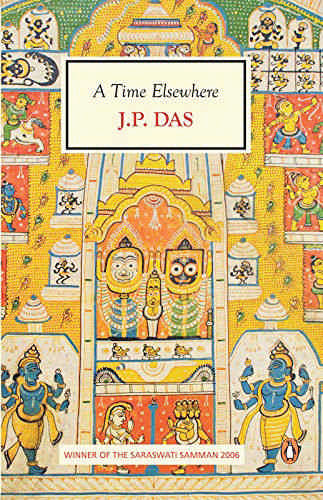 The original title of the book is Desa-Kala-Patra. In Balinese life, Place-Time-Individual is the doctrine that explores the relationship and dynamics of where one lives, when one lives and the circumstances in which one lives. This is the concept yogis use to put their life and circumstances into perspective. This is a magnum opus by the quintessential raconteur Dr JP Das, famous for his poetry, plays and short stories- recipient of the Sahitya Academy award, Saraswati Samman.

'A Time Elewhere'- covers a period of 50 years in Odisha, starting from 1866, the Odia Nationalist awakening, print literacy and the Odia middle class. The famine of 1866 occupies centre stage for much of the book, a tragedy resulting directly from the British administration's apathy and mismanagement. As a result, a third of Odisha's population is decimated.
As Collector of Kalahandi- Dr. JP Das, captures the human pain experiences when the district is affected by an unprecedented famine and drought.
"The God of rain turned away his face-
There was not one green leaf left on trees to eat.
The whole village a graveyard.
The ground cracked," -he wrote.

"A TIME ELSEWHERE" also shows how Odia society fought back with literary, logical argument and technological tools acquired from the English. The novel sees the colonized shaping their own destiny. For a change, we have the tiger sharing its story, not the hunter.
Spread the loveA young mother, soft-spoken, focused and spot on! Meet Dr Priyanka Soni, a 2012 Haryana Cadre IAS who hails from Rajasthan. As DC, Panchkula (Haryana), she aims to maximize the benefit of existing public-friendly government systems. Married to Dr Aditya Dhaiya, a 2011 batch IAS, she juggles her time between her demanding workRead…